The Province of Sussex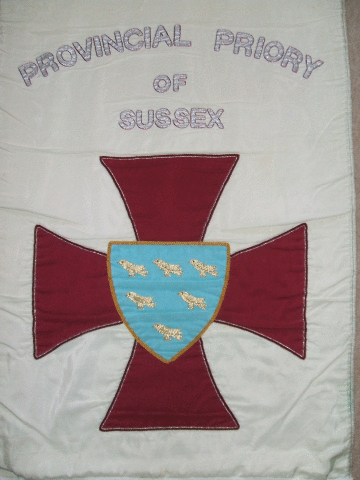 Provincial Priory of Sussex banner
The Provincial Priory of Sussex was established on 7th March 1873, following the consecration of the second Preceptory in Sussex.
Five weeks earlier, the first Preceptory had been consecrated in Eastbourne and that Preceptory's distinction as the first in the county was proclaimed in its chosen name, Sussex Preceptory No 125, and it has the further distinction of a separate name in the Order of Malta - The Southdown Priory.
De Warenne Preceptory No 126, consecrated in 1873, took its name from William De Warenne, with the next consecration being Holy Sepulchre Preceptory No 174 in 1902. The Preceptory of St Richard No 201 was consecrated in 1916 and Thornton Preceptory No 208 in 1990. Although consecrated in 1877, the Duke of Connaught & Strathearn's Himalaya Preceptory No 137 moved from India to Sussex in November 1971.
During the period from 1873 until 1947, a period of some 74 years, there were only three Provincial Priors in Sussex, Major Shadwell Clark for 10 years, HRH The Duke of Connaught from 1893 to 1941 - 47 years - and Major Robert Thornton from 1941 to 1947. Both the latter two Provincial Priors can be seen to have direct connections with Preceptories that bear their names in No's 137 and 208.
Charles H Mosse was Provincial Prior from 1957 to 1970 during which time Crux Christi Preceptory No 400 was consecrated, taking its name from his family coat of arms 'Crux Christi Nobis Salus'. He was followed by John Forrest from 1970 to 1980 during which time three Preceptories were consecrated - Holy Cross Preceptory No 470 in 1976, Bright Morning Star Preceptory No 477 in 1976 (as a past Preceptors Preceptory) and William of Normandy Preceptory No 488 in 1979.
Under Peter Cheney as Provincial Prior (1986-2000), The Jerusalem Cross Preceptory No 571 was consecrated in 1991, and The John Forrest Preceptory No 619 in 1999. This latter Preceptory was formed as a Bodyguard Preceptory and to carry out the Malta ceremony at its November meeting.
Our Immediate Past Provincial Prior, Right Eminent Knight Graham Flight, was installed in the millennium year 2000, and presided over the Province until 2013.
Our current Provincial Prior, Right Eminent Knight W. J. Toby Pratt, was installed on September 14th 2013.
Executive Officers
The Right Eminent Provincial Prior
R. Em Kt. Toby Pratt

Provincial Sub Prior
Em. Knight Colin Dann

Provincial Vice Chancellor
Em Kt. Steve Purnell
Prelate
E. Kt. M J Newth, P.Gt A.-de-C
Chancellor
E. Kt. J. Phillips, P.Gt. Her
First Constable
E. Kt.J. Fuller
Second Constable
E. Kt.R. Guest
Treasurer
E. Kt. S. Davis
Registrar
E. Kt. R. Axel
Vice-Chancellor
E. Kt. S. Purnell
Marshal
E.Kt. T. Rusby
Deputy Marshal
E. Kt. B F.. Marchant P. Gt. A.-de-C.
Almoner
E. Kt. L J. Clapperton
First Herald
E. Kt. J. Ellenger
Second Herald
E. Kt. A. Martin
St.B.(B.)
E. Kt. P. Carter
St.B.(V.B.)
E. Kt. A. Hustwayte
Banner Bearer
E. Kt. O'Hara
Sword Bearer
E. Kt. P. Fagence
Aide-de-Camp
E. Kt. M. Bolingbroke
Aide-de-Camp
E. Kt. S. Walsh
Warden of Regalia
E. Kt. M. Brown
Guard
E. Kt. E N. Nkune, P.Gt.A.-de-C
Captain of Guards
E. Kt. C. Baker CBE
Organist
Kt. P D Layburn
Past Rank Appointments
Aide-de-Camp
E. Kt. R. Bratton
Past Banner Bearer
E. Kt. P. Broomhrad
Past Rank Promotions
Past 1st. Constable
E. Kt. J. Shade
Past 1st. Constable
E. Kt. A. Jones
Past 1st. Constable
E. Kt. G. Keegan
Past 2nd. Constable
E. Kt. K. Meech
Past 2nd%2C Constable
E. Kt. A. Thompson
Past. 2nd%2C Constable
E. Kt. I. Wassell
Past 2nd. Constable
E. Kt. S. Childs
Past Registrar
E. Kt. D. Dean
Past Registrar
E. Kt. A. Smith
Past Registrar
E. Kt. C. Potter
Past Registrar
E. Kt. M. Ramsden